Not all South African domestic airlines were created equally. I guess you knew that already. But, do you really know your FlySafair's from your Skywise's and Cemair's from your Airlink's? I didn't, but thanks to some nifty research and this cool info-graphic from Travelstart.co.za you'll now be more informed.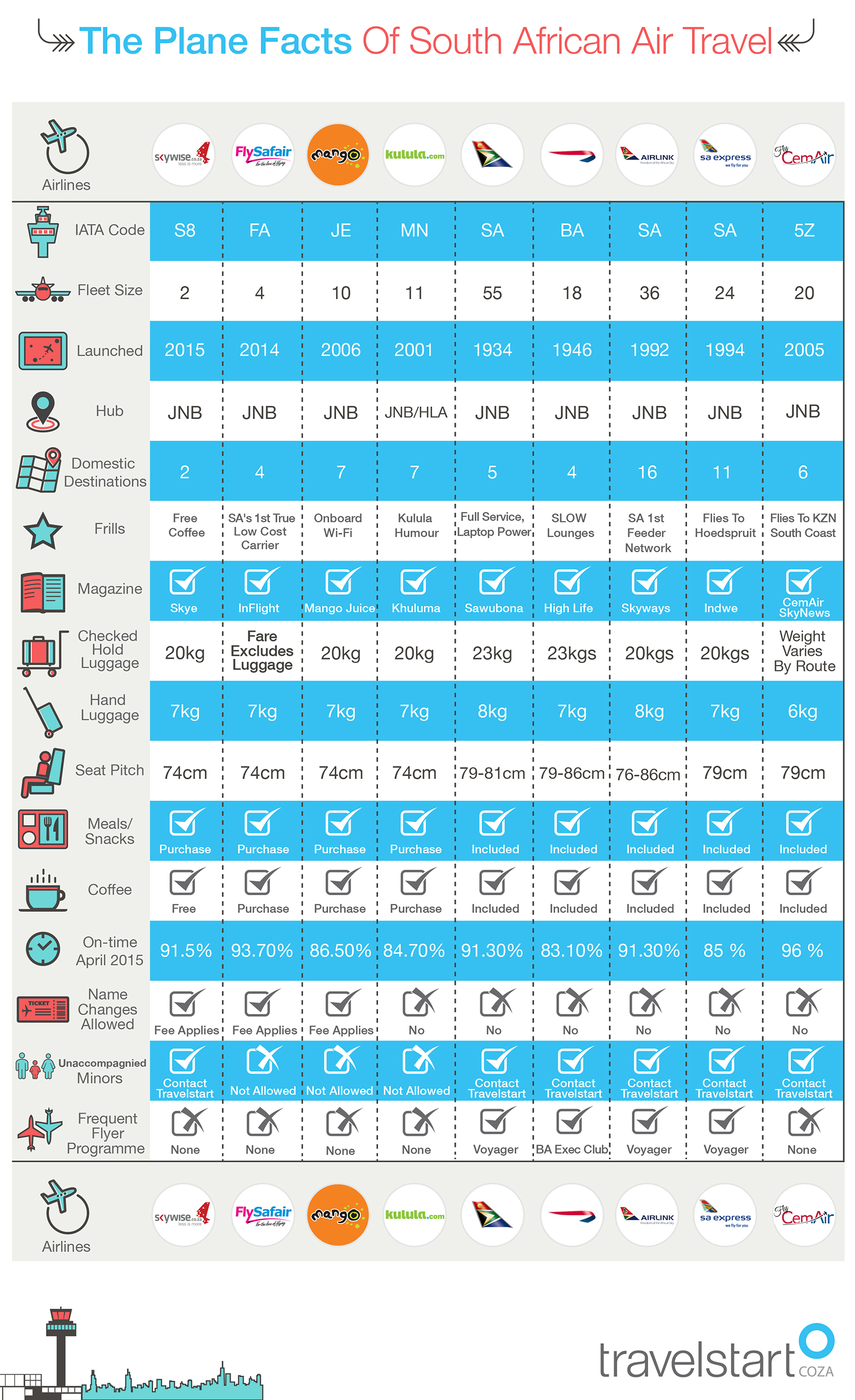 The on-time stats for April 2015 were hardly surprising. I correctly guessed who would have the lowest success. At least those airlines offer the SLOW Lounges and humor to make up for it 🙂
Some people may believe that newcomer Skywise might require you to pay for your checked-in luggage just like FlySafair. This isn't true. Skywise allows 2 pieces of checked in luggage up to 20kg for free. Whereas FlySafair will charge R150 online or R250 if you try to check in your luggage at the airport. I'm hoping these new airlines consider flying the JNB-DBN route (Update 08/15: Skywise will now add Durban to it's flight routes from October 2015).
All the large carriers except South African Airways and British Airways can be considered as low-cost airlines. However, the large carriers occasionally have some good specials so always consider their ticket prices.
Airlink, SA Express and Cemair serve more remote destinations, reducing the need for you to fly with the larger carriers and drive long distances. Their route maps are:
Airlink:
SA Express:
Cemair:
For more facts and tips on flying domestically check out the full article from Travelstart.co.za here.
Note: All info in this article is correct as of 18 May 2015, and is subject to changes without notice.